About Paxton Williams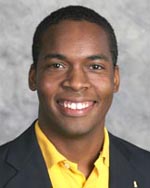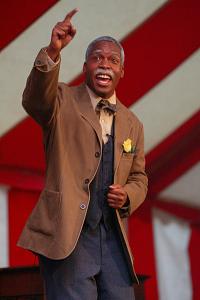 Actor/Playwright/Chautauqua Scholar Paxton J. Williams, MSc, MPP is a graduate of Dr. Carver's alma mater, Iowa State University. After being inspired by an honors seminar on Dr. Carver, Paxton began the research that led to this play. Following research at the Iowa State University archives and the George W. Carver National Monument in Diamond, Missouri, "Listening to the Still Small Voice" was first performed in the spring of Paxton's senior year under the direction of Professor Jane Cox, who is widely considered a doyenne of the genre. Paxton, an ersatz Ustinov, has served as an actor, writer, and director in several community productions. Most recently, Paxton completed filming the independent feature Reel Competition and appeared as the abolitionist writer William Wells Brown at the 2nd Annual Gordon Parks Celebration for Culture and Diversity in Kansas. Paxton also has appeared on stage in the roles of "Tom Robinson" in To Kill A Mockingbird and "Hoke Colburn" in Driving Miss Daisy.

Paxton, who has a masterís degree in public policy from the Gerald R. Ford School of Public Policy at the University of Michigan, has worked as a legislative intern in Washington, DC, co-managed a county-wide political campaign, and has written articles and presented workshops on diversity in the workplace. From September 2003 until September 2004, Paxton resided in the English West Midlands and studied at the University of Birmingham as a Rotary Foundation Ambassadorial Scholar. While in England, Paxton was on staff at The Drum, the UK's largest arts centre devoted to the promotion of African, Afro-Caribbean, and Asian arts and culture. Paxton was awarded a second master's degree from the University of Birmingham (UK) in July 2005. Described as "a gifted brother" by Professor and Author Michael Eric Dyson, Paxton currently serves as an inaugural member of the Young Alumni Council for the Iowa State University Alumni Association; a member of the ISU Dept. of Political Science Advisory Board; a member of Thomas Hart Benton Festival Planning Council; and is a member of the Non-Profit Alliance of the Joplin, MO Chamber of Commerce. In 2008, Paxton was named Outstanding Young Alumnus by the Iowa State College of Liberal Arts and Sciences. Paxton recently appeared in Chautauquas across Maryland, Missouri, Ohio and Texas. From 2005 until 2009, Paxton served as executive director of the George Washington Carver Birthplace Association, a 501 c-3 non-profit organization started in the early 1940's with Dr. Carver's support that today exists to advance historical, scientific, educational, and interpretative programs of the National Park Service at George Washington Carver National Monument and across the nation.