One-Page Info Sheet
(Click here to download a printer friendly version of this page)
ABOUT "LISTENING TO THE STILL SMALL VOICE:
THE STORY OF GEORGE WASHINGTON CARVER":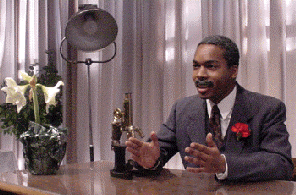 "Listening to the Still Small Voice: The Story of George Washington Carver," is a one-person play written and performed by Paxton J. Williams. Following extensive research at the Iowa State University archives and the G.W. Carver National Monument in Diamond, Mo, "Listening…" was first performed as Paxton's undergraduate capstone project in the Honors Program at Iowa State University.

This is the story of one of the most inspiring and enigmatic renaissance men of the 20th century. As you travel from Civil War-era Missouri, to Carver's Laboratory, to the halls of Congress, you will see the trials, tribulations, and ultimate triumph of the scientist/educator/artist known as the "Wizard of Tuskegee." You will learn how Dr. Carver, born into slavery, affected and was affected by such historical figures as Eleanor and Franklin Roosevelt, Booker T. Washington, Henry Ford, Henry Wallace, the boll weevil, Thomas Edison, Will Rogers, Josef Stalin, and Mahatma Gandhi. Above all, you will see the story of a humble, spirited man who did the best he could to serve humanity, and "fill the poor man's empty dinner pail." This performance will certainly show that there is more to Dr. Carver than his 300+ uses for the peanut!

The performance runs approximately one hour, including a brief question and answer period. Shorter performances can be arranged if preferred. In addition to performing for civic/community groups, festivals, and academic conferences, Paxton has adapted the play for elementary school audiences, making each performance unique and interactive.

THE PLAY HAS BEEN PERFORMED FOR THE FOLLOWING AUDIENCES:

Rotary District #1060 2003 District Conference; Bournemouth, England
Minorities in Agriculture, Natural Resources and Related Sciences (MANNRS)
2003 National Convention; Atlanta, Georgia
George W. Carver National Monument 60th Anniversary Celebration; Diamond, Missouri
Mississippi State University
University of Nebraska-Omaha
I'll Make Me A World In Iowa 2003 State Festival; Des Moines, Iowa
Iowa Council for the Social Studies 2002 State Convention; Cedar Rapids, Iowa
Iowa State University Alumni Association Alumni Days 2000; Ames, Iowa
Willkie House, Inc.; Des Moines, Iowa
St. Joan of Arc Church ARCS (Active, Retired Catholic Seniors); Merrillville, Indiana
Mt. Zion Missionary Baptist Church; Hammond, Indiana
Blessed Sacrament Catholic Elementary School; Gary, Indiana
Central Elementary School; Nevada, Iowa

ABOUT PAXTON J. WILLIAMS: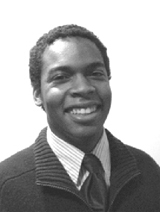 Paxton J. Williams is a graduate of Iowa State University, Dr. Carver's alma mater. Paxton has served as an actor, writer, and director in several student written productions, and most recently completed filming the independent feature Reel Competition. While at Iowa State, Paxton was active in many student activities and organizations, and also served as Student Representative on the State of Iowa Youth Development Demonstration Collaboration Project. Paxton, who was formerly Special Projects Assistant at Iowa State's Native American Tribal College Initiatives Office, holds a master's degree in public policy from the Gerald R. Ford School of Public Policy at the University of Michigan. In addition to presenting his play on Dr. Carver, Paxton has worked as a legislative intern in Washington, DC and has written articles and presented workshops on diversity in the workplace. From September 2003 until September 2004, Paxton resided in the English West Midlands and studied at the University of Birmingham as a Rotary Foundation Ambassadorial Scholar. Paxton, who was recently selected as a 2005 Chautauqua Scholar by the Missouri Humanities Council, resides in the greater Chicagoland Area.